Our Wines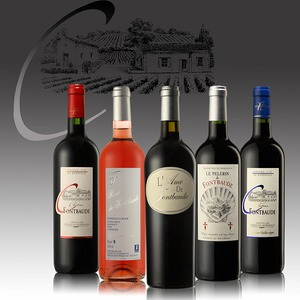 Castle Fontbaude product 4 vintages of red wine and 1 rosé wine
Rosé
Developed based on Merlot, which gives fruit flavors walls, and Cabernet , which brings her vivacity, the Fontbaude Rosé wine is fresh , full of flavor , fun summer. The company grills, salads and hot summer suits him very well.
It is a wine to drink within two years following its production , ideally in the following year.
Light red wine :
- the Pilgrim Fontbaude
Following the Pilgrimage Nicolas ( son of Christian ) we wanted to elaborate a means sharing wine. This wine is a light wine , soft round, inviting sharing . It is made ​​from 100 % Merlot
- Castle Fontbaude Tradition
75 % Merlot bringing fruit and soft tannins and 25 % Cabernet Franc that gives liveliness make this wine a soft and pleasant wine. Aromas of red fruit, round and soft tannins will delight all lovers of wine friendly , simple. Drink within two to five years after birth even if some vintage can last over time.
Tanned red wine
- Castle Fontbaude Reserve
Composed of 55 % Merlot that brings flexibility and 45% Cabernet Franc that brings power and finesse. From plots facing south and aged 40 to 50 years , the castle fontbaude reserve while ripe fruit and power. Breeding for one year in oak barrels gives it the finesse that carractérise . Very often winning and distinguished, this wine will delight the most demanding connoisseurs .
- Soul Fontbaude
Difficult to describe a soul … Coming from the Older Operating plots ( over 80 years) and only the Merlot . High for 15 to 18 months in oak barrels , this is a wine of great finesse. The best is to taste and appreciate .
Click on the images to the left to view the specifications of our different wines